2013 was a packed year for Jennifer Lopez! There were movies, music, awards, and a million other things to keep her (and us!) busy. It was hard to choose our top moments for the year, but read on to see some of our favorites:
10. Surprise Movie Role

Back in June, Jennifer scored a new movie role while on the radio! This was a fun moment necause we got to witness Jennifer's excitement about her projects first-hand.
Jennifer will co-star alongside Viola Davis in LILA & EVE, a movie based on two distraught mothers who team up to avenge the deaths of their children when local inner city authorities fail to find the culprits. The movie begins filming in Atlanta in a few weeks!
09. JLo Barbie

Nothing says ICON like having a Barbie doll bearing your likeness! This year, Mattel released Jennifer Lopez Barbie Dolls! Of course, her Barbies are multi-taskers, so there's a red carpet Jennifer and a Dance Again World Tour Jennifer!
Jennifer's Barbie was spotted performing on tour, fighting off dragons, and going back to the Bronx. While in the Bronx, Jennifer celebrated the holiday season by giving her Barbie dolls away to young girls at her Viva Movil store. You can't be a true icon without giving back, right?
08. The Fosters/Ally for Equality Award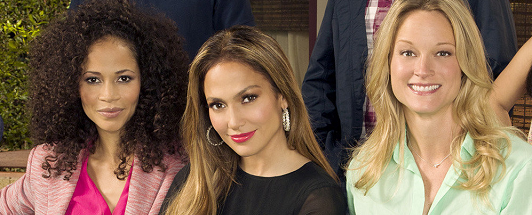 Jennifer produced the incredibly successful ABC Family show 'The Fosters' through her production company, Nuyorican. Her involvement led to being honored with the Ally for Equality Award at the HRC National Dinner in Washington, DC in October. The Ally for Equality Award recognizes the outstanding efforts of those who dedicate time, energy, spirit and whole-hearted commitment to better the lives of LGBT people.
The Fosters was welcomed with widespread critical acclaim and is ABC Family's #2 show in target demos, driving ABC Family to pick it up for a second season. The show also won the award for Choice TV Breakout Show at the Teen Choice Awards! The 2nd half of season one begins airing in January, so make sure you tune in! If you want to catch up, the aired episodes are available on Netflix.
07. Filming 'The Boy Next Door'

For the first time in 2 years, Jennifer was back on a movie set this past November! Jennifer worked on a new film, The Boy Next Door, which is being produced by Jennifer's Nuyorican Productions and Blumhouse Productions (The Purge, Paranormal Activity).
The Boy Next Door is about a newly separated mother who begins an affair with a new teenage neighbor who befriends her son. Trouble ensues, however, when she tries to abruptly end the relationship. The micro-budget thriller was directed by Rob Cohen and also features Kristin Chenoweth, Ryan Guzman, Hill Harper, and John Corbett. You can see tons of photos from the set in the gallery. The Boy Next Door is scheduled to hit theaters on January 23, 2015.
06. Premios Juventud Award

In July, Jennifer took home a well-deserved Worldwide Icon Award at the Premios Juventud award show. Jennifer delivered a very heartfelt speech, saying "If I've inspired you or made your life more enjoyable, or helped you dream and realize that you can achieve those dreams, then it was all worth it." The night also included an amazing performance with Pitbull that featured their three biggest songs – On The Floor, Dance Again, and Live It Up! (The latter, of course, was  released this year and hit #1 on on Billboard's Hot Dance Club Play Chart & has over 85 million views on Youtube/Vevo!) Just in case that wasn't enough, Jennifer also took home the award for Best Actress/Actress Who Steals The Spotlight. That's our girl!
05. American Idol

In September, it was announced that after taking a year off to embark on the Dance Again World Tour, Jennifer was re-joining American Idol! This time she's joined at the judging table by Keith Urban and Harry Connick Jr. Based on recent videos, photos, and interviews, it seems like the trio are having a great time working together. There's a lot of positive buzz as things are gearing up for the January 15 premiere on FOX. Let's hope Jennifer and the AI team can repeat history and make 2014 as successful as 2011 and 2012!
04. Chime for Change

Jennifer had an amazing show at Chime for Changes's Sound of Change charity concert this Summer. The charity concert featured many artists, ranging from Beyonce to Madonna, and raised money for various charities, including the Lopez Family Foundation's projects in Panama.
Jennifer put on a mini concert, performing Live It Up, Get Right, Love Don't Cost A Thing, Jenny From The Block, Hold It Don't Drop It, and On The Floor! One of the biggest highlights from the show was when Jennifer performed a rendition of The Beatles' Come Together with Mary J Blige. There has been talk of a possible collaboration on Jennifer's upcoming 10th album, so stay tuned!
03. AMA Celia Cruz Tribute

Last month, Jennifer performed an EPIC tribute to Cuban legend Celia Cruz at the American Music Awards. After arriving at the show with a huge social media campaign designed to #GetJenniferThere and promote her Jennifer Lopez Collection for Kohls, Jennifer sang several of Celia's classics and threw in a complex dance routine that featured gravity-defying lifts and two on-stage costume changes. No one else could put on a performance like that on live TV, and it earned rave reviews from JLovers and the media. Justin Timberlake was also an enthusiastic supporter of the performance, haha.
02. Hollywood Walk of Fame

In June, Jennifer received the historic 2,500th star on the Hollywood Walk of Fame! This permanent landmark, located at Hollywood & Vine, is a reminder of everything our girl has accomplished over the years. A mob of over 1,000 fans crowded the streets to watch the presentation ceremony, which featured speeches from colleagues who influenced her career in major ways. Jennifer became emotional while speaking about the landmark moment and thanking everyone who helped her get there, including her JLovers!
01. JLo Birthday Present!

We always make an effort to celebrate Jennifer's birthday and present her with a birthday gift, and this year was no different! We created a crystal brick that featured the names of many of the fans on our forum. We had the chance to present Jennifer with her gift at the British Summer Time Hyde Park show, thanks to Team JLo! Jennifer was super gracious, as always, and assured us she'd find a great spot for the gift. It's moments like these that make us fans forever!
I hope you guys enjoyed this walk down memory lane! We hope you all have a great new year! Thanks for visiting and supporting us throughout the years. We have a lot to look forward to in 2014 – American Idol, Jennifer's first single, her 10th album, the theatrical release of 'Home', and more! We hope 2014 will be Jennifer's biggest year ever!
What are your top moments of the year? Did we miss any? Share your thoughts with other JLovers on the forum!