Like every single year we do something special for Jennifer's birthday. This year I was the lucky one handing it over to her.
I bought tickets for her British Summer Time Hyde Park show months ago. The event happened to be exactly 10 days away from her actual birthday so this seemed to be the perfect occasion to present her our special gift.
This year's gift, as most you know, was a crystal brick with names of the most active BBers on it.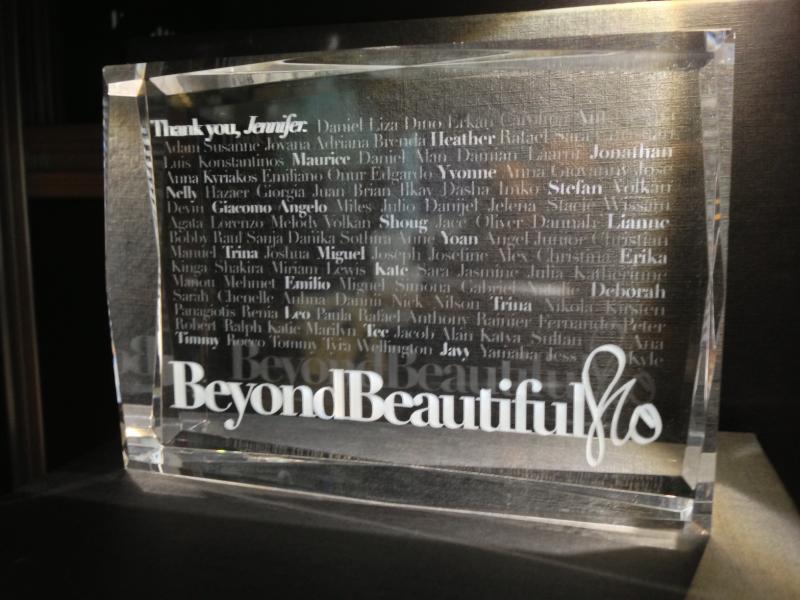 After hopping on the plane from the Netherlands to London, UK the day before the actual event, things got more and more exciting. On July 14th me and 2 fellow lovers, Lianne and Yvonne, showed up around 10.30 am at Hyde Park's gates. Waiting for the doors to open at 2 pm wasn't that bad after all, due to other JLovers present with whom we had some nice chats.
When Stooshe, Jennifer's support act on the European leg of her Dance Again World Tour, and some other acts finished their performances, things started to heat up on this hot summer day. They were getting the stage ready for Jennifer. JR, her choreographer, was doing some check ups so we knew it wouldn't be long until Jennifer would make her entrance herself. A loud 'let's get it!' got us all super excited: she opened the show with my personal favorite Get Right. During her 4, all new, costume changes Jennifer performed her wide range of smash hits including: Waiting For Tonight, Love Don't Cost A Thing, Jenny From The Block, On The Floor, Dance Again and her latest single Live It Up. She delivered yet another amazing concert, showcasing the stage powerhouse she is!
Right after her performance we rushed to the VIP area, where we met up with one of Jennifer's people who escorted us to the backstage area to present Jennifer our BBJLo Birthday gift. While we waited for her we saw some dancers, choreographer JR, Max & Emme and stylists Mariel and Kelly passing by. Press was present to get some shots of Jennifer. When she was done with that it was BBJLo time! Being the doll she always is, she welcomed me with a hug. After a little chat I presented her our birthday gift. She absolutely loved it and assured me it would get a nice spot just like our gift from last year, which made it to her dressing room as seen on the Katie Show. The video below captures her receiving the gift.
While holding our birthday gift proudly, she posed for the photographers with me right by her side and took some individuals shots with us after. On a personal note, I was able to thank her briefly for the difference she made in my life. My mom got diagnosed with cancer around the time Jenn started her music career and I became a fan the instant I saw her If You Had My Love video on TV for the first time. By playing her music I was able to get some time for myself in order to forget everything around me which I really needed back then. I thanked her for always being there in an unconscious way, and she said to me 'awww I'm still here!' and gave me another hug. As you can imagine, a very special moment for me. Mission accomplished!
I want to thank all the lovers who donated for the gift and for making BBJLo the magical place it is! Special thanks to Mark Young, Yoan, Stefan, Nancy and Gilly for making this happen!