NBC has announced that Jennifer's new show, Shades of Blue, will premiere mid-season (so, probably early next year). Shades of Blue is a provocative new drama, starring Jennifer as a sexy New York detective (and single mother) named Harlee Santos. Harlee fell in with a tight-knit group of dirty cops, taking bribes and protection money that she used to provide the best life for her honest and talented daughter. When she's trapped by the FBI, however, and forced to inform on her own "brothers," she'll have to walk the fine line between love, loyalty, honor and betrayal, and try to keep it together for her daughter's future. The cast also includes Ray Liotta, Warren Kole, Dayo Okeniyi, Drea De Matteo, Hampton Fluker, Vincent Laresca and Sarah Jeffery.
Here's a promo pic: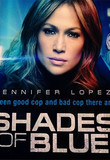 Links: Official Site | Twitter | Facebook
In other TV news, FOX has announced that American Idol will end next season, after 15 seasons. Jennifer, Harry Connick Jr, and Keith Urban will continue with the show next season, for what is being described as a "season-long celebratory event."  It will certainly be the end of an era, but we have tons of other JLo-related things to look forward to in the next year!