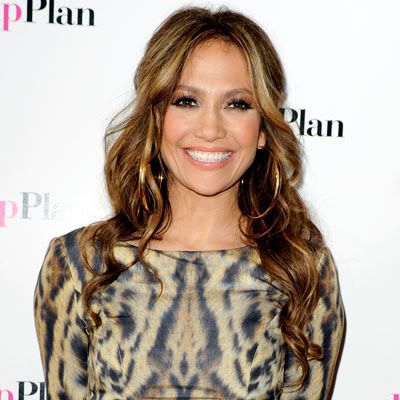 Leading up to The Back-up Plan's press conference and the incredible interviews lined up ahead of us, the Beyond-Beautiful.com and OnlineJLoFan.com team of administrators mulled over creative ideas and gathered questions to be covered. We knew we had to prepare, push, and conquer to bring you a completely epic event. It has taken many years and hard work to get to this point, and we can only hope you have had a fun ride leading up to this day; whether you've been around for years, or are just now joining our community. We hope many more amazing things will keep happening around here, but know that we can't do it without you and your support!
We won't keep you waiting any longer – drum roll please!
Interview
with: The One, The Only, Our Icon; Jennifer Lopez!
The morning of the conference for The Back-up Plan entirely flies by as I'm led from floor to floor, and suite to suite of the exquisite Beverly Hills Four Seasons hotel. I have already interviewed director Alan Poul, and will see The Back-up Plan's leading man, Alex O'Loughlin, last. Now I am to sit back for a few minutes and take in the room before me. Suddenly, it finally strikes me – I am in Hollywood AND moments away from interviewing JENNIFER LOPEZ!
My heart has been beating irregularly for the past 72 hours, I'm convinced. I pore over the series of questions I have, one last time, before my name is called. "Erika, I'll now take you to see Jennifer," a CBS Films publicist says and I dreamily float behind her.
Moving closer, I hear Lopez say, "Ok, I'm ready!" from inside her private suite. A mere instant later, there she is, comfortably seated on a fluffy sofa. The door closes behind me and then, it's just the two of us.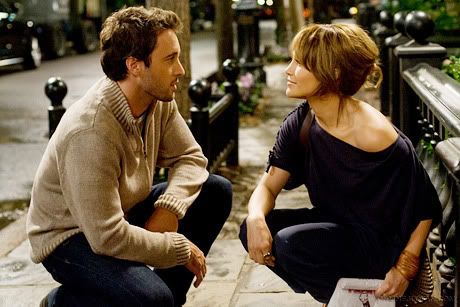 Ready, Set, Record
Before I float away, I manage to anchor myself on a sofa chair. I ask her to excuse me as a shuffle about getting my recorder ready because I don't want to miss one thing. She sits there patiently, smiling. Immediately, I begin making quick mental notes on how she looks and what she's wearing; I'm a slave to her fashion style, after all, and I know you will want to know all the details on what the newly anointed, US Weekly 'Style Icon of the Decade' is sporting today.
Her hair is pulled back into a loose ponytail. She is wearing dangle-drop earrings made of a shell material, a blush pink H&M shirt dress and a Sonya Rykiel scarf softly tied into what looks like a
rosette. She has paired the ensemble with sky-high patent leather tan and turquoise heels and matching color enamel bangles. Her skin is lit up from within.
Our conversation begins as I gush about how much I loved The Back-up Plan, which I had the chance to see the previous evening. "Did you like it?" she enthusiastically asks me. I tell her I loved, loved, loved it! It may seem only obvious that I would say that to the star of the film, but folks, I truly loved the movie and I wasn't about to hide my utter delight in being able to tell her just that; all the while swelling with pride after witnessing, what I feel, is true evolution in her acting.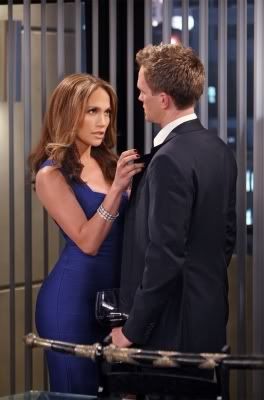 on 'How I Met Your Mother'
I also express to her how I felt while watching the movie. It was like I was riding a kind of emotional roller-coaster. The Back-up Plan was a gratifying ride from beginning to end. I found myself wiping a compassionate tear off my face, only to wipe countless more after having laughed so hard.
Sharing my joy further, I declare that I believe her fans will love it just as much. "Ohh, I'm so glad," she's delighted to hear. "Yeah, I thought it was the type of thing that my fans would want to see me in. You know, after taking my maternity leave for a little while from doing films. It was nice. It was nice to get back and do that. And I was really pleased, when I saw the film for the first time, at how funny it was. I was like, 'Ooh, that's really funny! That's good,' she exclaims.
I then rave about her recent comedic TV appearances telling her they have been a nice treat to watch and ask her to share how she liked being involved. "It was fun! It was a lot of fun. You know, [The Back-up Plan] is for CBS films. Obviously, [How I Met Your Mother] is a CBS show, and [CBS said], 'you know what? You should go on and do little a piece on our #1 show, How I Met Your Mother, you should do that. Your fans would love to see it, remind them that you do comedy,' and stuff like that and it was a lot of fun. I loved working with Neal [Patrick Harris] and the director over there was awesome. I mean, the whole cast is great, but a lot of my scenes were with Neal and he's just kind of an all around performer as well, and we just had a good time. He's a cool guy," she tells me.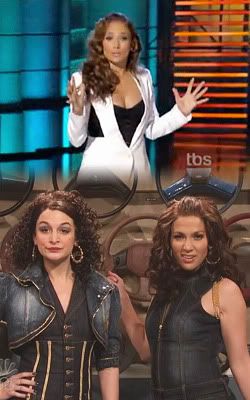 The Lopez Tonight hosting appearance came as a complete surprise to many, and Lopez got rave reviews for her improvisational stand-up hosting gig. She laughs as she
reminisces, "Oh my God! That's right. Well, the whole thing – I was supposed to go on and do the whole sit-down-this-and-this-and-that, and we couldn't get it together on time. But I didn't want to just not do something, so I was like, 'what can we do that's cool, and quick, and fast. I want to come out and do something.' And the [show producers] were like, 'you know what, you can come out unannounced and do the opening monologue and then George [Lopez] will come out and whatever.' And I was like, 'OK!' Because you know, I didn't just want to leave and not do something. They wrote this whole amazing monologue and they [asked me], 'can you do this?' And I was like, 'yeah, yeah, no, I can do it!' And it was just a lot of fun. It was really interesting. I had never done anything like that before in my life. Like, try to do stand up or host a show and it's something I never want to do again, by the way."
I admit it was a bit disappointing to hear her say that last part, so making sure she really means it I ask, 'no?' to which she firmly replies, "No!" 'Ahh, well' I silently say to myself. Let's hope she changes her mind!
Although a seasoned performer and notorious career multi-tasker, Lopez shares details on the demanding nature of shows such as Saturday Night Live. "That was so brutal. You know, I've done [SNL] before as a musical guest and [most recently] as a musical guest and a host at the same time. I've done it twice before this time, but when I did it last time, I was only in about five or six sketches. This time I was in like, 11 sketches! I was in every sketch. I was in the opening. I was in the cold opening, the monologue, and doing the performances. It was just…"
She animatedly mimics actions to give me a better sense of the behind the scenes chaos, "I was running back and forth. They were ripping wigs off my heard, [they were] dressing me. And then I'd have to get my [microphone] and my ear monitors on, and do the songs. It was just like, trying to – having like a minute and 20 seconds or a minute and 40 seconds to change. And then just like, 'ok calm down, you gotta sing,' [and then] 'ok calm down you gotta' play this character". It was just…insane!"
Even if Lopez doesn't host again, we can still look forward to several film and TV projects currently in development under her production company, Nuyorican, including a First Look Deal with NBC
Television, the romantic comedy Taming Ben Taylor for Paramount, where she will star as a top notch real estate agent who wins over a rugged vintner, Sweet Little 15 for Fox Searchlight which tells of a young Mexican girl's coming of age story as she plans her Quinceañera, and Cheech at the Beach for NBC, a sitcom based on the life of comedian Cheech Marin. Additionally, in 2010, she and Nuyorican will be producing the Lasse Hallstrom directed Death in Cheyenne starring Richard Gere and Emile Hirsch.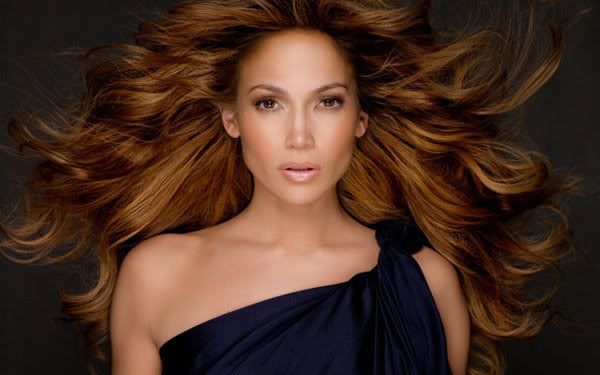 Love? Status
I quickly switch gears. I don't want to forget to ask her to clarify what she previously announced during the morning press conference regarding the two brand new songs she performed on SNL this past February. Immediately after the performance, blogs reported the titles as Starting Over and Pieces. She clears this up, "No, that's not the name of [one of the tracks]. I have a song called Pieces." The correct title for the track is Until It Beats No More. Lopez offers no word on whether or not Pieces will appear on her upcoming album, Love? What she does confirm, however, is that Starting Over, as well as Until It Beats No More will "for sure" be included in the album, which is slated for a late Summer release.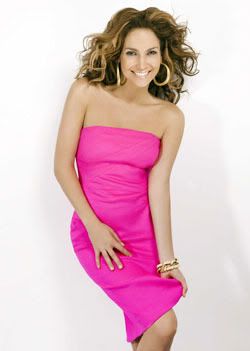 A handful of leaked tracks have hit the net over the past year causing rampant speculation over the album's direction and its delayed release. What Is Love (written by Atlantic Record's recording artist Wynter Gordon) first leaked in May of 2009. Despite that, it is now the lead track on the film's soundtrack and can be purchased through iTunes. Lopez says she "might still put it on the
album."
I press for more information as to the current status of Love? and its content and she tells me, "The album is not totally finished. Because I was transitioning from one company to another and we really couldn't announce anything. You know, I kept working on the album, but at the same time I knew that once I got to the new company that they were gonna want to have their input on the record as well. So, it was like, 'yes I'm doing it, but yes and no' and you know, trying to kind of navigate around that whole thing. So, now that we, you know, are basically at a new company and we are working on finishing the record. But a lot of the records that I did work on will still be on the album, yeah."
History will surely be created, as several major performances are planned for early Summer to support the album release.
An Orphan at Sony
On February 22 of this year, it was announced that Lopez and Sony Music Group were parting ways after a decade long partnership. Despite speculation, it was unclear where Lopez would find a home next until hours before my interview, when she confirmed to a media outlet that she had signed on at Def Jam Records.
I wanted to dig in further and was amazed at her sincerity in explaining the reason behind the move. "Yeah, you know, it got to the point…I mean, it's no secret [that] since Tommy Mottola left, I felt a little bit like an orphan over at Sony because he was SUCH a big part of my first four albums and I just, you know, didn't even really speak to anybody else at the label," she says. "He was my guy; me, Benny [Medina], him. And then he was gone, and I was there, and I had no relationship with anyone else over there. Then they changed people like, three times over the next four or five years and so, we never could really get traction over at Epic. It was weird."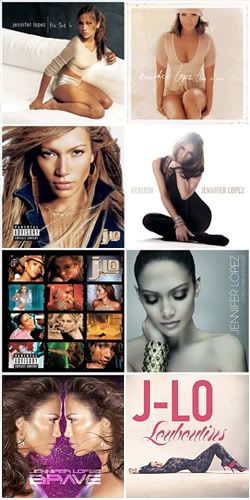 She opens up some more, saying, "But, everyone was doing their best you know? I put out some records that were big hits, and did well, and some didn't and you know, it was what it was. But, I thought…at this point, we did two dance records with Fresh Out The Oven and Louboutins, which both went to #1 on the dance charts. It felt really good, but at the same time, I had given them seven albums and we had sold 40 million records, you know? Like, we had a good run, but I just felt like; when I sat down with the head of the company, I just said 'I think it's time for me to move on.' And he was like, 'well, you know…' It was hard because I love them and they love me, but you know when you just know? It's like, 'I think, yeah, it's time,'" to which I nod.
She continues explaining the exchange between she and Sony, "'You can't do what you need to do right now', and 'I can't do this.' It was just a lot of things, but at the end of the day, we looked at each other and it was kind of like, 'ok, if this is what you want, then,' he literally said, 'I'll make it easy for you'. And they could have made it very difficult. But they didn't and it was great. And we both parted ways with a lot of respect for each other and a lot of dignity and I am very excited because I am with a new company and it's like a new beginning and now I get to have a whole new history. We get to create history all over again and with a new team, and new excitement, and seeing, you know what we can do that was even better than before. So, that's where we're at right now."
I tell her how we, as her fans, are very much looking forward to that new 'era.' She immediately identifies with it, "Yeah! Like a new era! It feels like that." I go on to share how around Beyond Beautiful we like to look at her projects in 'eras;' the On The 6 era, the This Is Me…Then era, the Rebirth era. She's amused and laughs along as I share the list. Then I present her with the idea of naming the newest era; the Love? era, she seems to like that, saying "The Love? era, for sure!"
The Monas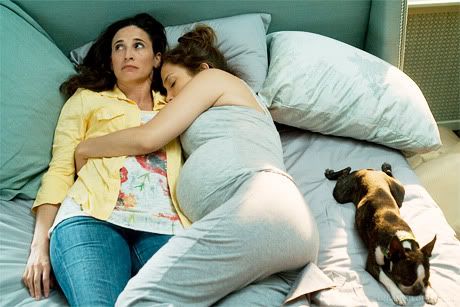 Time has vanished and we are now close to the end of my time with Lopez. I want to switch it back and talk about her experience being part of The Back-up Plan. I share that I was quite moved during a particular scene where the character 'Mona' (played by Michaela Watkins) gives 'Zoe' a moment of clarity and much needed figurative slap in the face. I ask her if this has happened in her own life and who her real-life 'Mona' is. "I have a couple of Monas in my life," she says. "I have like, three, maybe four really, really close friends who I will call and talk about things with and talk about my life with, who I feel comfortable enough, who I love, and who love me enough that we do that. But I wouldn't just say it's one friend. I have, like, maybe three or four friends like that." It's good to hear she has plenty to draw from in real-life to play her characters with emotion and authenticity; this is completely evident in her performance on The Back-up Plan . As she finishes telling me this, I feel the rush of having to end the interview and I'm sad to have to leave. I feel like ten minutes have disappeared and we're just now getting to the good stuff. I could order a nice iced-tea and ask her for suggestions on room-service fare to be brought up to her suite; all on me! But now it is time to get back to reality. But I make sure to do one thing first!
J.Lo ♥'s Her Fans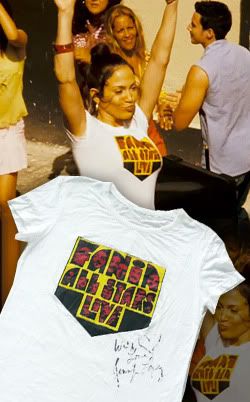 I tell her I have to show her something. "Let me see!" she commands. I pull out a prized item from my collection of memorabilia. She gasps, "Oh my goodness! Where did you get that?! Is that the one I wore in the movie?!" Smiling ear to ear, I nod. She sees the black Sharpie pen I hold in my hand and inches her way closer. I lay the crisp white 'Fania All-Stars' t-shirt her character 'Puchi' wears during a concert scene in her last film, El Cantante. I tell her I scored this from Screaming Mimi's of NYC during the online vintage sale they held with wardrobe items from the movie. I don't have to ask since she's already getting ready to autograph it for me, but I do anyway. I'm thrilled watching her delicately pen 'With Love, Jennifer Lopez' when she whispers, "Oh God! I hate writing on t-shirts. They never…" apologizing for the jagged writing; then finally draws a heart.
I wholeheartedly thank her for the time and immediately jump on the opportunity to ask her to address her Beyond Beautiful and Online JLoFans directly, "ok! Baby," she happily obliges. Hear it for yourself:
Listen to Jennifer's Lopez's message!
I thank her once more, and then we hug goodbye. Signed, sealed, and delivered, Beyond Beautiful and Online JLo Fans!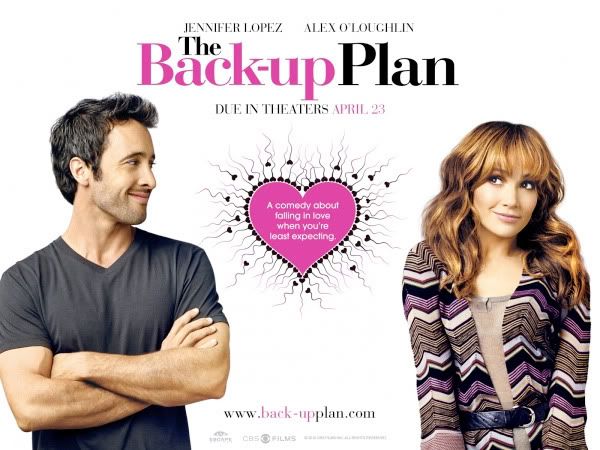 Make sure you treat your date, husband, wife, friends, and family to The Back-up Plan when it opens this Friday, April 23 in theaters nationwide!