In an interview with WWD Jennifer announced she's releasing a new fragrance "Glowing"…
"Glowing, is a step beyond Glow." Jennifer explains. "Glowing is such a clean fragrance, that's what I've always been about. I like soapy, clean smells. This is a very woodsy scent. So it's not exactly what I created 10 years ago – it's the evolution of that. At the essence, it's still natural, earthy, clean and real, but a little different side of that. It's the woodsy side of it, which I think is kind of New York-y, darker and sexier."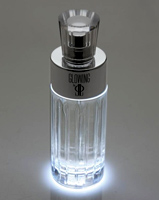 Glowing is a floral woody amber concocted by Lopez with Givaudan's Calice Becker and Caroline Sabas. Top notes consist of of bergamot, mandarin and cypress; a heart of orange flower, muguet de bois and cassia flower, and a drydown of sandalwood, amber sultan, vanilla, vetiver, patchouli and cashmere musk. The eaux de parfum will launch in May and will be sold in the US at Kohl's in three
sizes: 1 oz. for $39, 1.7 oz. for $49 and 2.5 oz. for $65. The 1.7-oz and 2.5-oz.  There will also be a 6.7-oz. body lotion for $27.50. The bottle will light up for 15 seconds when the atomizer is pressed, In homage to Glow. The juice has a faint lavender tint.  Overseas distribution will begin in July.
Ads for the fragrance have been shot by Sølve Sundsbø with creative direction by Olivier Van Doorne. They will debut fashion, beauty and lifestyle magazines in May.