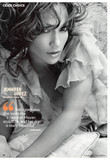 May 9, 2005
Celeb Choice - Most Beautiful
Stars Tell Us Who They Think Is the Most Beautiful Person in Hollywood
JENNIFER LOPEZ
SINGER/ACTRESS, 35
"She's gorgeous. She looks like a piece of Mayan sculpture, and her skin is really beautiful"
—JANE FONDA
http://www.people.com/people/archive/ar ... 02,00.html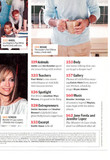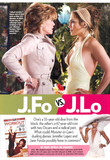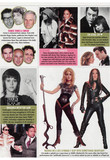 May 16, 2005
J.Fo Vs. J.Lo
One's a 35-Year-Old Diva from the Block, the Others a 67-Year-Old Icon with Two Oscars and a Radical Past. What Could Monster-in-Law's Dueling Dames Jennifer Lopez and Jane Fonda Possibly Have in Common?
MY BODY, MYSELF, MY BUSINESS
J.Fo's '80s workout empire ("Feel the burn") was once worth $670 million (the old tapes were recently released on DVD). J.Lo's fashion (right) and fragrance businesses are worth an estimated $350 million.
THREE TIMES A BRIDE
Fonda is divorced from (above, from left) director Roger Vadim, politician Tom Hayden and tycoon Ted Turner. Lopez is divorced from restaurateur Ojani Noa and dancer Cris Judd; now she's Mrs. Marc Anthony.
BRUSHES WITH THE LAW
Fonda gave a defiant salute when she was arrested for drug smuggling in 1970 (the case was thrown out—they were vitamins).
Lopez stood by her man, Sean "Puffy" Combs, following a nightclub shooting in 1999. (He was acquitted of all charges.)
PROTEST TARGETS
Three decades later, J.Fo's visit to North Vietnam still draws flak. During a signing for her new memoir, My Life So Far, an angry vet winged her with tobacco spit. And antifur activists have a beef with J.Lo: She uses fox, rabbit and mink in her Sweetface fashion line.
CO-STAR, CO-HART
Gigli turned Jen and Ben Affleck into Bennifer. Alas, no one dubbed Jane and flame Donald Sutherland (in '71's Klute) Fonderland.
WANNA BE A SEX SYMBOL? SLIP INTO SOMETHING SKINTIGHT
J.Fo made a splash as a supervixen in 1968's Barbarella (for years after she found her performance too "politically incorrect"); J.Lo lately suited up just as slinkily in a Pepsi ad.
http://www.people.com/people/archive/ar ... 96,00.html