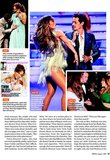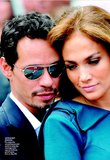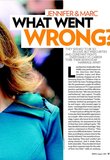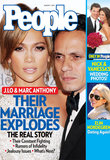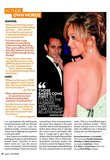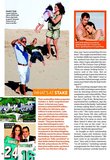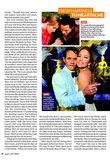 Jennifer & Marc: What Went Wrong?
By Joey Bartolomeo, Liz McNeil
They Seemed to Be So in Love, but Insecurities and Constant Fights Over Family Vs. Career Tore Their Seven-Year Marriage Apart
Less than two weeks after their wildly sexy performance on the American Idol finale, Jennifer Lopez and Marc Anthony stepped out at the Samsung Hope for Children Gala in New York City June 7 looking nothing like the passionate couple 29 million viewers had seen on TV. Lopez seemed pensive, and there was little affection between the two. "She was out of sorts and bothered," says a guest. "Usually at events, he'd take her hand, but this time he was very nonchalant." Inside, Anthony chatted up partygoers, but he and Lopez-who seemed eager to leave-exchanged few words. Says the guest: "She didn't seem very happy."
It wasn't just an off day for the pair; it was also their last public appearance as a couple. After seven years of marriage, Lopez, who turns 42 on July 24, and Anthony, 42, announced on July 15 that they were calling it quits. "We have decided to end our marriage," they said in a statement to PEOPLE. "This was a very difficult decision." And one that, according to a source close to the family, followed "two months of nonstop arguing. They just couldn't get along anymore, and it made them both miserable. They decided it's best to go their separate ways for the sake of their two kids." Adds an Anthony insider: "Though they love, admire and respect each other very much, they just needed to be apart."
The news shocked fans who had only seen them as the blissful parents of 3-year-old twins Max and Emme. But those who know the stars say there were issues on both sides. For Lopez, multiple sources point to Anthony's jealousy and desire for control. "Marc would show up on-set and wait in her trailer," says a source on the set of her 2010 movie The Back-Up Plan. "During breaks from shooting, he never wanted her to socialize with anyone else." And when she became an Idol judge, "Marc suddenly got very envious about all the attention she got," says the source close to the family. Not true, says the Anthony insider: "He has always been very supportive of Jennifer's career. But they got to the point when they started to see life differently. For Marc, life is about enjoying life. There are people that think life is all about work."
Several sources also say both sides feared infidelity. "Jennifer suspected Marc was not faithful, and it's been eating away at her," says the source close to the family, adding that Anthony did not like that his wife spent time with William Levy, 30, the Cuban telenovela star who played her love interest in her sultry "I'm into You" video. "Marc would go crazy every time he was mentioned." (Levy told PEOPLE in May he doesn't keep in touch with Lopez and said in a July 18 statement that the relationship "has been strictly professional.") In addressing the cheating rumors, the Anthony insider will only say, "From what I know, that hasn't been the case from either party." Still, the lyrics from Lopez's 2011 song "Starting Over," though she didn't write them, seem telling: "He's my man when we're at home/ And it can't hurt if I don't know/ All his secrets, all his lies/ I just keep pushing 'em out my mind."
Things got so bad that by mid-May, "Jennifer started to kick Marc out of their house, and he'd stay for days at a time at a hotel," says the source close to the family. "When he would yell, she would shut down," says another source who worked with them. (Counters the Anthony insider: "If he feels he is being disrespected, he will definitely react to it.") He was a regular at Idol, but the two rarely interacted. And at a May event sans Lopez, Anthony, who'd had a few drinks, was heard by several people making an unflattering remark about his wife.
After they'd cool off during their days apart, he'd return home-but not for long. In June "Marc spent more time at the hotel than at home," says the source close to the family. Lopez, meanwhile, flew to Europe for work, took her kids to Disneyland and stopped returning his calls. "Jennifer seemed to make up her mind and wanted to end the marriage," says the source. During the July 4 weekend, Anthony left home for good, crashing with a friend. Says the source close to the family: "She seemed happier after no contact with him for several days."
That wasn't the case in the early years of their union, when they were virtually inseparable. After a whirlwind romance, the couple, who had briefly dated in 1999, secretly wed in June 2004 just five days after Anthony's divorce from former Miss Universe Dayanara Torres was finalized. "Marc was crazy about Jennifer, and she was gaga over him," says a Latin music source close to the couple. "She looked at him with admiration."
Twice-divorced Lopez, who had survived painfully public splits from Sean Combs and fiancé Ben Affleck, thought she had found lasting love with Anthony. As she told PEOPLE in 2010, "we were at a certain place in our lives where we loved each other, and we were also willing to work on a relationship." They shared a passion for music, acting and their heritage. "We're both from New York, both Puerto Rican, so obviously we felt a connection from the beginning," Lopez told PEOPLE EN ESPANOL. But there were also big differences. While she doesn't drink or smoke, he enjoys beer and cigarettes. "He's nervous energy; she's more peaceful," their El Cantante director Leon Ichaso told PEOPLE in 2007. "They are like opposites that match."
Her role as Mrs. Anthony was also a marked change from her flashy Bennifer years, when she'd drive around in her Rolls-Royce and go clubbing. Settled in suburban Brookville, Long Island, Lopez began to withdraw from the public eye and made an effort to be home by 9 p.m. to watch TV and hang out with Anthony and their dogs. She laid out his clothes, checked in during the day and cooked dinner at night. Life, she told PEOPLE at the time, was "more normal than it's ever been." The couple renewed their vows in October 2008, but reports of trouble surfaced less than two months later, when Lopez attended the premiere of The Curious Case of Benjamin Button minus her wedding band. "They are always locking horns," a source said at the time. But an Anthony pal says Lopez was intent on sticking it out. "She didn't want to have another failed marriage, and for many years that's why she kept working at it."
But everything changed when she took on Idol, reversing a career downturn by charming viewers with her compassion and vulnerability. Then her dance anthem "On the Floor" became a Top 10 hit. Being back on top boosted her confidence, says the source close to the family, "and instead of always taking Marc's advice, she became more independent and broke free a bit." The Latin music source says their home life also suffered because of her busy schedule: "She didn't like to be away so much, and Marc hated it when she was away, even if he was on the road." As a source who worked for the couple puts it, "He felt she ignored him."
As fraught as their relationship turned, Lopez and Anthony seem headed for a battle-free divorce. "We have come to an amicable conclusion," they said in their statement, "on all matters," including custody arrangements for their twins. Lopez will have primary custody based in L.A., and Anthony, who will keep his Long Island home, will "see the kids as often as possible," says the Anthony insider. In terms of assets, "there was no fighting over payment or who gets what."
Now Lopez is in a familiar position, picking up the pieces and healing her broken heart. "Jennifer is sad it didn't work out," says the source close to the family, "but she feels she tried everything." (They even went to counseling.) Post-announcement, she spent time playing in the pool with her kids as well as posing for a Kohl's photo shoot July 17 (though the source close to the family calls that a "rough day"); she's due in Atlanta July 25 to begin filming What to Expect When You're Expecting. Meanwhile Anthony wowed the crowd at a concert in Bogota, Colombia, July 16 but kept to himself during his trip, staying mostly in his hotel room. "This is a very difficult stage," says the Anthony insider. "These people will just learn to love each other in a different way. I think he's hoping she can find happiness."
More From This ArticleFrom Happiness to Heartache
2004
The couple (first photographed together on the set of her movie Monster-in-Law, left) started dating after her split from Ben Affleck. After a fast-moving courtship, they quietly wed at her Beverly Hills home.
2008
The day she completed her first triathlon, Lopez threw a surprise 40th-birthday party for Anthony.
2007
After months of speculation, Lopez announced her pregnancy while onstage in Miami during their joint concert tour.
2008
Introducing the twins, Lopez said, "With all the things that Marc and I have done and accomplished in our lives, this is the biggest thing that will ever be."
MAY 25
The American Idol judge shared the stage with her husband on the show's finale. "She liked having him there," says a source.
JULY 9
Though Anthony had RSVP'd, Lopez brought her mom to meet the royals.
What's at Stake
Their multimillion dollar properties include L.A. (left), Long Island and Miami. In the last year Lopez earned an estimated $25 million—$12 million for Idol alone, plus millions in endorsements. Latin superstar Anthony has sold more than 11 million albums worldwide. But splitting their assets was simple: "They just decided to keep what belonged to each," says a source close to Anthony. (So his reported 1 percent minority investment in the Miami Dolphins will likely remain his alone.) Despite the breakup, the Anthony source says both are "fully committed" to their Kohl's fashion lines launching this fall, and producers for Q'Viva, their joint reality series, say that at least for now the show will go on.
In Their Own Words
JENNIFER:
"When you find that person that doesn't run when things get hard ... Marc proved to me that he was more of a man than anything I had ever experienced."
"I try every day to pay attention to everything. In the morning, did I bring Marc some coffee, did I kiss him, did I tell him I love him, did I call him enough during the day?"
"There comes a time when you feel like you're in such different places because of life, work, disagreements ... That's what a marriage is—it's getting through those hard times."
MARC:
"[When we first met in 1998] she walked in, and I was just like, 'You're my wife and you don't even know it.'"
—on The Talk
"She's a phenomenal mom.... [As parents] you have all these amazing little moments. It's just perfect."
"Jennifer loves to cook, loves family time, loves when we eat together... . You know, just real normal stuff when we're home."
—to Latina magazine
http://www.people.com/people/archive/ar ... 91,00.html