Jennifer Lopezis surrounded by photos of herself over the years as a singer and actress. And though her eighth album, Love?, debuts in May, her greatest achievement becomes instantly apparent when her 3-year-old daughter Emme, carrying a dress-up purse and stuffed animal, toddles into the room just to give Mommy a hug. Climbing up into Lopez' lap, Emme shows off her freshly manicured fingernails to a guest and smiles. "Pretty and pink!" she says proudly. The L'Oreal model sighs and smothers her little girl with kisses before sending her back on her way. "Yeah, she's amazing," says Lopez. "She's such a girly girl. Just like a mini me." It's her family-including Emme's twin, Max, and husband Marc Anthony-who have taught Lopez that "beauty comes from the inside out" and allowed her to connect with millions as a judge on American Idol. "I feel like I'm a better person. I feel like I've grown and evolved and have more to offer," she says. And it shows. At 41, looking half her age, she sits down with PEOPLE's Julie Jordan and shares the secrets behind being a beauty icon.
How does it feel being on the cover of this issue?
It's so crazy. Rarely am I left speechless, but I feel honored. I feel not worthy, you know? I feel happy and proud. Proud that I'm not 25!
Do you feel better now about yourself than you did in your 20s?
Yes. I feel better, I feel smarter. In my 20s I just wasn't there in my mind and my soul and my spirit. It's just great to be in the position I'm in now and be able to share that with the world.
You have never looked better. What do you attribute that to?
I think it's because I have a lot of love in my life. I feel lucky to be an attractive person, but I've always felt that real beauty always comes from your heart.
That inner beauty really shows on American Idol. How do you feel about people getting to see the real you?
This is the first time I've done something where people are really getting to see my personality. I felt like they knew me already! But they really didn't know the type of person I was, which is ... nice.
What do men most compliment you on?
Men don't compliment me-they're afraid of Marc!
How about women?
Women always kind of say, "Your skin looks amazing."
How do you take care of your skin?
I use a very clean soap from a dermatologist named [Brian P.] Mekelburg, called Dermatopics. I've used it for 15 years. And I use a sunscreen moisturizer every day-and at night, too.
Do you take your makeup off every night?
Oh yeah, you have to. I sometimes lay down in bed with my makeup on and go, "I still have to get up and take it off." My skin just needs to breathe. I can't afford to have buildup and break-outs and stuff like that with people always watching and with HDTV.
Have you learned any beauty tips about what to do if you're puffy or tired?
You know the best thing for beauty, skin and face is sleep. That, and I also use masks to replenish moisture. They look like bandages. I love those.
Do you indulge in massages and facials?
In a perfect world I'd get them all the time. I'm not a smoker or a drinker, so I don't have any of those vices to relax me. I love to take a bath and I love facials and I love getting a massage as often as I can.
Do you ever leave the house without makeup?
If I'm going to a store or something like that, I'll just put on glasses and a hat. But I'll get made up to go to dinner. I know how to do my own makeup. I like doing it.
Is your hair normally curly or straight?
My hair is naturally wavy. I've straightened it for years.
You highlight it, right? Are you fighting any gray hair?
Oh, I was prematurely gray at 23. I have to have [my roots] touched up every couple of weeks. I'm kind of tempted to one day just let it go. It'd be kind of exciting! [Laughs] Maybe someday we'll go really far away for like two months and I'm just going to see what it looks like.
What part of your body do you love?
Wow, my stomach. I had a hard time after the babies were born, to get back into it. Before it was never an issue for me; my stomach was flat and very muscular. I had a C-section, and when the doctor cut me open, she was like, "I literally had to saw your muscles, they were so tight."
What part of your body drives you crazy?
My legs. I always have to work really hard on my upper thighs. That's the part that you guys will never get to see [laughs]!
How did you first become known for your backside?
When I first started, I mentioned it in an article. I guess nobody really ever talked about themselves in that way before. But it was just something that we talked about in my family, and it was no big deal. And I was a little bit too unguarded at the time, and it became this huge thing. No pun intended!
So you never expected it?
No! At first it was kind of funny, and then it became like too much. And then it turned into something kind of like dirty and weird. And then it was just something that I never wanted to talk about again, because it's all anybody would want to talk about. Now everybody's just very respectful.
How do you feel about aging in Hollywood?
I think with people like me andJennifer Aniston, Halle Berry and Julia Roberts, this generation is redefining what it is to be a woman who is not in her 20s anymore but is still very viable, sexy and important. We have a lot to offer. And people are starting to realize the beauty in that.
What's most important when it comes to feeling and looking younger?
To keep that positive outlook, to keep that energy, to know that there is more. There's always something new and something more you can accomplish. And the fact that my children are so young and their life is just starting makes me think, "It's just the beginning!"
More From This Article



her DIET

"I pretty much just regulate myself," says Lopez, who does not count calories. "I'm not an overeater. I just eat a little bit of anything I want." Several times a year, she'll do a five-day Optimal Cleanse when she wants to look good for a special occasion.

BREAKFAST:

"Cereal with lots of fiber. I'll have a little bit of decaf coffee because I don't like to drink caffeine. I like Penta water. It's oxygen flat."

LUNCH:

"Anything from a grilled-turkey-and-cheese sandwich to a salad to chicken breasts."

SNACK:

"I'm not a big snacker."

DINNER:

"A lot of rice and beans, meat and salads. Marc is Puerto Rican too, and that's what we were raised on. We try to keep it very traditional."






her WORKOUT

Lopez is disciplined. She works with a trainer at home doing the Tracy Anderson Method—an arms, legs, abs and dance-cardio routine—four days a week for an hour to an hour and a half each day.

On the road, "I take a Tracy Anderson DVD with me and do it in front of the TV. Little 3-lb. weights, nothing crazy, just dance aerobics." The key is to not miss a workout. "The twins go to bed around 8:30, so I might start working out then," she says. "If I'm tired, Marc will say, 'Work out.' I asked, 'Why do you say that? Do you think I'm in bad shape?' And he said, 'No. I know you're happier when you work out.' Plus his office is near the gym, and he told me, 'I like knowing you're close.'"
________________________________________________________
ITS OFFICIAL NOW!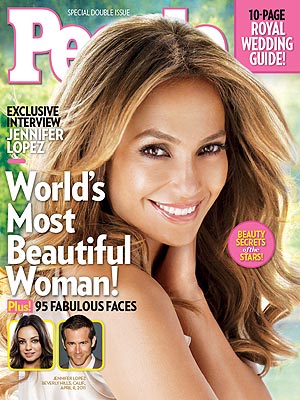 Jennifer Lopez
But at home with husband Marc Anthony and their 3-year-old twins, Max and Emme, Lopez is a zero-makeup kind of mom. "That's when I'm my happiest," she says in this week's exclusive cover story. "Just being able to touch my face and rub my eyes and put my fingers in my hair and not having to worry about messing it up. It's so much better."
From her skincare regimen to her grueling workouts and portion-controlled diet, Lopez says she makes a concerted effort to stay in top form. "The thing is, it's part of my job," says the singer, who ran a triathlon six months after she gave birth. "I don't want anybody thinking it's easy. It does take time and it's hard work. HDTV wide-screen is nobody's friend!"
Lopez, 41, also has learned valuable beauty tips over the years,and says daughter Emme is starting to prove she's her mother's child. "She is very girly-girl, just like me since I was very little. She loves for me to paint her nails," Lopez says. "She lays out her clothes on the floor like I do with my stylist and she's like, 'This matches very good!' "
And what about son Max? "He wants to paint his nails too. Because for him, it's just paint. He's like, 'I want the blue!'" Lopez says, laughing. "Then Marc is like, 'Why are Max's nails painted?!' But he won't sit still so it's only like two nails."
As for being called a "diva," she says, "I kind of like it. We've kind of owned it now. But I certainly don't like and I've never been a person who has what they call 'diva behavior,' which is something they tried to pin on me for a long time."


For more of Lopez's exclusive interview, in which she sets the record straight on all the rumors, pick up this week's special issue of PEOPLE, on newsstands Friday[/i]