Intro to Jenology
Posts: 155
Joined: Aug 2nd, 2006, 7:00 pm
Bachelor of Jenology
Posts: 1833
Joined: Sep 21st, 2011, 7:00 pm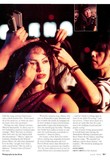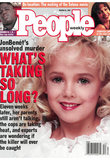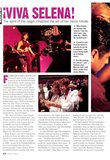 ¡Viva Selena!
By Pam Lambert
The Spirit of the Singer Inhabited the Set of Her Movie Tribute
FLASHBULBS FLICKER AROUND THE darkened arena as the stunning brunette in the sequined fuchsia bell-bottoms struts onstage and stretches her arms toward 30,000 screaming fans. "How ya doin', Houston?" she hollers with a classic Texas twang. To the crowd gathered in San Antonio's Alamodome it made no difference that this wasn't Houston. Or that the woman bathed in the warm golden lights was a Hollywood copy of their lost idol. They cried, they cheered, they clicked their cameras anyway—because for one afternoon last September, Selena, the late Tejano music queen, was alive again.
"We came for Selena, even though we know no one can replace her," says Yvonne Romero, who arrived at 3 a.m. so she would be sure to get a spot as an unpaid extra in the filming of Selena, director Gregory Nava's tribute to the slain singer, which opens March 21. "We came to see her."
What Romero saw was a woman not so different from her fallen star. During the re-creation of Selena's last concert before she was shot to death in 1995—at age 23 by Yolanda Saldivar, the former head of her fan club—actress Jennifer Lopez (Money Train) resembled Selena so eerily that even those closest to the singer were astonished. Says comedian Paul Rodriguez, a family friend who entertained the Alamodome crowd between takes (he's not in the movie): "Looking at Jennifer, you could swear that [the killing] was all a bad nightmare."
As the twirling Lopez lip-synched to Selena's soaring soprano on a medley that ironically began with "I Will Survive," Abraham Quintanilla, the singer's father and the film's executive producer, began wiping away tears. "It brings back a lot of memories," says Quintanilla, 57. "Part of me feels like she's still alive." Adds Nava, 47, navigating the set in a golf cart with the sign "El Jefe" (the Boss) up front: "I feel her spirit is with us."
Selena's family, former bandmates, even the seamstress who made her costumes, were on hand to ensure authenticity down to the tiniest detail. Lopez, 26, is wearing Selena's L'Oréal Sangria nail polish, a tip from the singer's older sister Suzette. And the actress's skintight, magenta-colored outfit was cut from the same pattern used to make the original. "Jennifer has the same measurements Selena had," says Julie Ramirez, Selena's seamstress, as she sits in a room behind the stage sewing rhinestones onto a black leather bra. "I had saved all of her patterns, so when we started, I just went into my boxes."
During one take, Selena's mother, Marcela Quintanilla, 52, darts over to her husband as cameras tracked Lopez onstage: "Wait! You have to tell Jennifer that's not the way Selena held the microphone." "Marcy," sighs her husband, standing beside Edward James Olmos, 50, who plays Quintanilla in the film, "people won't notice such a small detail." But his wife is adamant. "Selena's fans will know," she says.
When the cameras stop, Olmos, who put on 40 pounds to play Abraham and got to know the family by hanging out at their modest Corpus Christi home, approaches Lopez and demonstrates how she should grip the mike. "Having the family here makes it easier to capture the truth because everybody remembers," observes Nava.
For Lopez, a New York City native whose casting was originally protested by some Latinos because she is of Puerto Rican rather than Mexican descent, this can sometimes be a burden. "It's the most difficult role I've had, because Selena isn't a fictional character—and her family is sitting right in front of me while I'm acting," says the actress. "I have never been on a movie set quite like this. It's common to be walking around and find people crying."
One of many trying unsuccessfully to hold back tears during the Alamodome filming is assistant producer Nancy de los Santos, watching near the stage. "We shouldn't be making a movie about Selena," she explains. "We should be making one with her."
http://www.people.com/people/archive/ar ... 82,00.html
Bachelor of Jenology
Posts: 1063
Joined: Jul 2nd, 2013, 8:24 am
takes me back, thank you!!
Intro to Jenology
Posts: 71
Joined: Oct 18th, 2012, 6:57 am
---
Who is online
Users browsing this forum: No registered users and 3 guests