Written by Heather, Posted on May 21st. Discuss on BB

Jennifer Lopez's latest film, PARKER, is now available on DVD and Blu-ray! PARKER is based on the series of bestselling novels by Donald E. Westlake. Parker (Jason Statham) is a professional thief whose crew double crosses him, steals his stash, and leaves him for dead. Determined to make sure they regret it, Parker tracks them to Palm Beach, where the crew is planning their biggest heist ever. Parker takes on an unlikely partner, Leslie (Jennifer Lopez), and together, they devise a plan to hijack the score, take everyone down and get away clean.
Blu-ray and DVD bonus materials include commentary with director Taylor Hackford, and two featurettes: Bringing the Hunter to Life: The Making of Parker" & "Who is Parker?". Blu-ray exclusive bonus materials include two additional featurettes: "The Origin of Parker" & "Broken Necks and Bloody Knuckles".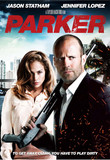 Get it on Amazon and iTunes! PARKER is also available via Movies on Demand On Cable.