St. Louis marked the last hometown stop in the search of Season 11's American Idol. Jennifer Lopez looked simply stunning in the red strapless top and her sleek locks – this look easily places in the Top 5 looks of the opening episodes don't you think?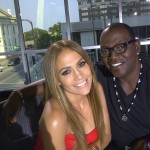 Check out some great screen-caps from tonight's show and last night's Portland auditions (courtesy of BBer "juliana").
So, would the talent in St. Louis measure up to Idol winner Carrie Underwood, who auditioned in the city back in Season 4? It is during this stop that we finally learn which contestant Jennifer called "a star" during the season's promo videos – read on to find out who caught her eye!
Could 22 year-old, Johnny Keyser be the next American Idol? You have to watch Johnny's performance for yourself to truly enjoy the judge's reactions:
http://youtu.be/1H3E4JnXLQc
The episode ended with another voice that clearly stood out from the rest. For Jennifer, contestant Lauren Gray had "one of the best female voices" they had heard. Steven and Randy were similarly blown away by Lauren and promptly sent her through the St. Louis arch and through to Hollywood! It will be exciting to see how far these two contestants can go in the next episodes!
To help you gear up for next week's Hollywood round, check out all the faces that received their Golden Ticket here! And don't forget to tune in next Wednesday and Thursday at 8 ET/PT on FOX!